Posted on 14. May, 2008 by gypsy wings in News
Last night was the Arizona signing for The Host, and MANY MANY of our AZ TMs were there.
Can I just tell you, we had some CRAZY fun!Highlights include, but are not limited to:
*The Goat and his friend showing up
The Goat is kind of a joke that got out of hand and is now the AZTM mascot… And yes, that is me and I am fully aware that I am a huge dork…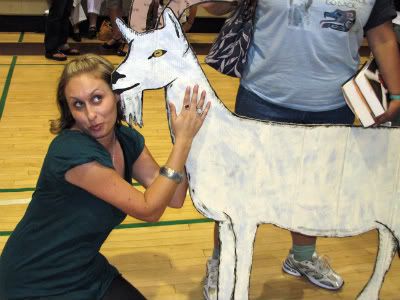 *Having the entire gym sing Happy Birthday to Robert Pattinson.
One of our very own TM's took it upon herself (read: was coerced into leading everyone) to have everyone sing to him… it was SO loud! You can watch it HERE.
And here is a shot of some of the gym…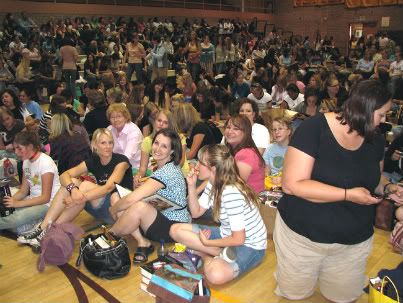 *Meeting some adorable girls who were super excited to meet some TwilightMOMS and even asked to take pictures with us.
*And of course there was the actual Q&A (where Stephenie answered more questions than she normally does just because she wanted to) and the signing.
There is a transcript and some more video's on The Lexicon, HERE.To see more pictures and hear more stories from the AZ signing please go HERE.
~Gypsy