Posted on 06. Jun, 2008 by lisa in Movie Related, News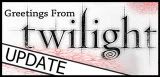 Click HERE to read all the details about Greetings From Twilight's fabulous news:
The cast of TWILIGHT will be appearing live at the 2008 Comic-Con in San Diego held in July. Scheduled to attend are director Catherine Hardwicke, Kristen Stewart (Bella), Robert Pattinson (Edward), Cam Gigandet (James), Rachelle LaFevre (Victoria), Edi Gathegi (Laurant), Taylor Lautner (Jacob Black) and Stephenie Meyer!
Summit Entertainment will have a booth with "Twilight Surprises!" If you go, get tickets for Thursday, July 24, 2008. And make sure you tell us all about it!
~lisa