Posted on 03. Jun, 2008 by inspiredbytwilight in News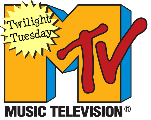 It's Twilight Tuesday once again.
This week MTV brings us the "uncut, uncensored, gold-carpet interviews" that we didn't see on Sunday at the MTV Movie Awards.   You can view them HERE.
Cam Gigandet joins in on the Twilight Tuesday Festivities HERE.
Share your thoughts on this weeks Twilight Tuesday on our Forum HERE.
~inspiredbytwilight