Posted on 28. Jun, 2008 by Admin in News, Stephenie Meyer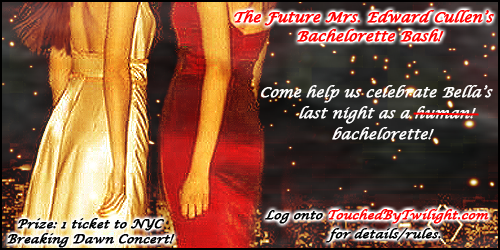 Our friends at Touched By Twilight have a contest going on that YOU WANT TO BE A PART OF!!! They are giving away a ticket to the SOLD OUT Breaking Dawn Concert in NYC on August 1st!!! Yeah, I KNOW!!! I told you you wanted to be a part of it!
They are giving you the chance to play Alice and plan Bella's Bachelorette Party.
PLEASE go over to their site and read the rules to the contest, it sounds really fun!Contest rules HERE.~Gypsy