Posted on 23. Jul, 2008 by Admin in Books, News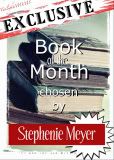 We're so embarrassed!  It's July 23rd and we're just now announcing August's Book of the Month?  How ever will we all get it in time to read & discuss when the forums reopen August 3rd? *sigh*  Oh, well, better late, than never, right?  For August's Book of the Month, we'll be reading & discussing Breaking Dawn by Stephenie Meyer.  There's still time to preorder it at Amazon here or Barnes & Noble here for delivery by August 2nd. Or we hear some bookstores are selling it at 12:01 am August 2nd.  Maybe that will give some of you enough time to read it by August 3rd?  We sure hope so.   Because we're so late getting this announcement out, we'll make it up to you…. somehow?  Maybe by creating a brand new forum for you to discuss it AND keeping it open for a long, long time?
And don't forget about Steph's pick for July's Book of the Month, Dragonhaven. Because the forums are closed for discussion for half of the month and Robin McKinley had graciously started answering questions, July's forum discussions about Dragonhaven will continue throughout August here when we reopen on August 3!