Posted on 21. Jul, 2008 by Admin in Movie Related, News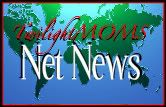 Read this Entertainment Weekly article titled "New 'Twilight' trailer: Love it, loathe it, or somewhere in the middle?" here. Oh, and we somehow missed blogging the links to these articles last week- here's Stephenie Meyer: Inside the 'Twilight' Saga and here is 'Twilight': Inside the First Stephenie Meyer Movie – from EW's July 18th issue, you know, the one with the Twilight Cover that's sold out everywhere? Oh, and that issue just happens to not only mention TwilightMOMS here, it also has pictures of some TwilightMOMS here! The forum discussions about the articles are here

and

the cover discussion is here

.
Read

"Sink your teeth into the Twilight series"

in the Gilroy Dispatch, a newspaper in California, here.
The Guardian.co.UK posted an article here about Stephenie Meyer and Twilight titled

"Mormon who put new life into vampires

." It also mentions TwilightMOMS.com!
Comcast TV posted news here about Elizabeth Reaser's (our Esme Cullen in the Twilight Movie) new CBS TV show titled "The Ex List" coming this fall.
TwilightTeez updated their blog about ordering Bella's Engagement Ring here… it's not ready to order yet, but they are giving 10% off regular prices for a week when it is available. Sorry about all the trouble you are having guys- both Twilight Teez and those of you waiting to buy one!
Quote:
"IGN Movies editor-in-chief Eric Moro…will be hosting the

Twilight

Q&A session featuring director Catherine Hardwicke, author Stephenie Meyer, and cast members Robert Pattinson, Kristen Stewart, Cam Gigandet, Rachelle LaFevre, Edi Gathegi, and Taylor Lautner. Never-before-seen footage from the movie will be screened for the crowd, and the panel will then be opened up to take questions from fans."
And last, but not least, MyCentralJersey.com has a post here titled

"Are you a fan of Twilight?"

looking for fans to quote in an upcoming

Courier News article about the Breaking Dawn release:

Quote:
"If you are one of those readers (a Twihard) who is waiting for the publication of "Breaking Dawn' at 12:01 a.m. Aug. 2, we'd love to hear from you and include your comments in our story."