Posted on 31. Jul, 2008 by Admin in News, Stephenie Meyer, TwilightMOMS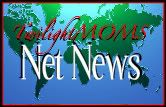 Stephenie was on Good Morning America today.  You can read the interveiw and watch the video here. 
As Seth has promised Stephenie is also featured in this USA Today article.  Our Coven Mother Lisa is also quoted in the article.