Posted on 31. Jul, 2008 by Admin in Contests, Events, News, Stephenie Meyer, TwilightMOMS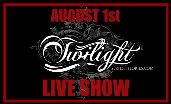 Today's the last day to enter the NY Gift Basket Drawing! Lisa will draw the name of winner TOMORROW live on the TwilightLive podcast! So tune in here tomorrow, August 1st at 11:58 am EST for the live podcast! You can listen to the test podcast here to make sure everything works for tomorrow!
Details about the TwilightMOMS Priceless Contest and Gift Basket Drawing are here.  You will also be automatically entered for every $10 donation made via PayPal here or through the PayPal button below!
The basket is still growing… we just updated it again, but it still doesn't have everything. Check here to see pictures and list of some of the contents. We're trying to get the rest added. But trust us, you don't want to miss out on entering this drawing! There are so many unique, amazing and priceless things in it!
1 day 9 hours and 4 minutes til Breaking Dawn!