Posted on 24. Jul, 2008 by Admin in Conventions, Movie Related, News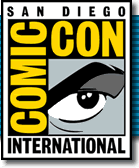 ATTENTION: We will be updating this post as more Comic-Con information comes in to us.  Please check back often as it is pouring in. 
~TwilightMOMS Admin
Apparently there was a minor 'disaster' in Hall H, where Twilight is being presented, this morning.
"The back rear draping in the main Comic-Con panel hall — Hall H for those in the know — came crashing down, seemingly injuring nobody and seemingly causing no damage. The disaster did, however, mess up Hall H's very consistent black color scheme, producing a discordant visual experience for attendees spinning in circles."

"The drapery collapse, made all the more dramatic by the clatter of structural piping, was photographed by several thousand iPhone holders and digital camera wielders who had previously been using their shutterbug skills to shoot teenage girls in "Team Edward" and "Team Jacob" t-shirt (a joke that only fans of Twilight are likely to get)."
Read about the rest of the ordeal here.
__________________________________
The LA Times published an short article with a photo of fans waiting for the 2:00 pm Twilight presentation at Comic-Con here.
__________________________________
ScreenRant.com has a brief article about the Twilight Q&A panel at Comic-Con, here.
__________________________________
RopeofSilicon.com has a video of the Twilight cast introductions for the Q&A panel at Comic Con. (Warning: please be seated and remove all beverages in your vicinity before viewing….earplugs are optional)
See the video here.  Follow all RopeofSilicon coverage of Comic-Con here.

__________________________________
GeeksofDoom.com has details about the Twilight Q&A (or scream-fest) & panel pictures here. (Warning…some of the language is a bit risque.)
__________________________________________
MSN's Dave McCoy is blogging about Twilight at Comic-Con here:
"Hard Day's… Event: Greg Ellwood has survived the "Twilight" panel. But we have no idea where our video team is. Perhaps they've been kidnapped by vampires. Either way, we'll have full coverage tonight. Check back soon … "
__________________________________________
The LA Times has details of the Q&A panel, too. They claim that
"[Robert] Pattinson is writing "Edward's Song" for the movie. He made up the lullaby on the spot while filming a scene."
and from Catherine:
"Hardwicke: "I've got one! In one of the kissing scenes, Rob got a little passionate and fell off the bed onto the floor." Screams. Muse is on the soundtrack."
MUSE is on the SOUNDTRACK? Yay!! Read the rest of the details here.
__________________________________________
In their roundtable discussions with the Twilight cast, FilmSchoolRejects.com, reveal that Catherine and Stephenie are both interested in making the sequel, New Moon:
It's no surprise that Meyer was interested – especially after saying her experience on Twilight has been so fantastic – but it was also good to hear that Hardwicke was enthusiastic about returning to the director's spot if the film gets made and if she's given the chance. Both said they "had their fingers crossed," but hadn't heard any official word on whether the studio was planning on it.
They have a great picture of Robert, Kristen, and Taylor (AKA Edward, Bella, & Jacob) & complete details from their interviews with the cast here.
__________________________________________
ShockTilYouDrop.com posted audio interviews with Catharine Hardwicke, Stephenie Meyer, Robert Pattinson, Cam Gigandet, Rachelle Lefevre, Edi Gathegi and Taylor Lautner here and some great candid pictures in their photo galleries here and here.
__________________________________________
EW.com has a PopWatch Blog entry here about Twilight at Comic-Con:
"The film's actors seemed completely overwhelmed by the rabid Twilight fans. "This all baffles me," said the British star Robert Pattinson. "Its nice though, it's nice."
__________________________________________