Posted on 31. Jul, 2008 by Admin in News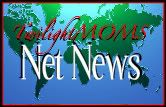 MTV's Kim Stolz will be moderating the New York Twilight concert with Stephenie Meyer.  Today, Kim got the chance to sit down with Stephenie Meyer and ask her some questions about about reaching rock star status, feminism in her books, writing influences, etc.  Read the first part here, and the second part, with a brief video and some big (non-spoiler) predictions from Stephenie about Breaking Dawn here.
Christian Serratos (aka. Angela Webber) is a big fan of the Twilight series.  She's read all 3 books and, like most of us, already has Breaking Dawn on hold for pickup early Saturday morning. In this just released MTV video blog, she reveals if she is for Team Edward or Team Jacob, what her favortie parts of books are, and what it was like shooting Twilight in Oregon. See it here.
MTV has another installment of what is turning out to be Stephenie Meyer, all day long. In this part of the interview, Kim has a "discussion about that controversial EW cover, the toughest questions she's ever been asked — and whether you'll be able to trade in your underwear for an official Twilight thong."  See (and read) it here.
Stay tuned as Larry "all things wonderful" Carroll promises more Twilight news in the next 24 hours!
The Olympian (WA) has an article about how interest in the Twilight series is helping the tourist industry in and around Forks, WA. Read about it here. They also have an article about the release of Breaking Dawn, here, including details about area release parties featuring "a 3-foot wedding cake, fortune tellers, Twilight series trivia and a costume competition."
The Canadian Press has Breaking Dawn, by Stephenie Meyer, as the #1 bestseller on the Amazon.ca book list for this week, here. They also have an article about the release of Breaking Dawn, here.
The Patriot Ledger (MA and the daily paper I get, YAY!) has an article about the Twilight series and it's fans and the release of Breaking Dawn. They even mention our very own Lisa Hansen and TwilightMOMS, too! Read it here.
The Wall Street Journal has an interview of Stephenie Meyer on the eve of the release of Breaking Dawn.  Read it here.
~debbie