Posted on 27. Jul, 2008 by Admin in Events, News, Stephenie Meyer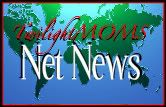 We're getting emails and private messages from members asking about TwilightMOM release parties and get togethers.  With the forums closed, not everyone got in on the email lists or blogs or groups set up to share details.  Any ideas for getting info about TwilightMOMS getting together for the release parties?  AmyO?
Sea Coast Online has an article about the Twilight series, what it is and why it's so popular, as well as, details on New Hampshire area Breaking Dawn release parties on Aug. 1st. See it all here.
The South Town Star has an article about mothers and daughters in the Chicago, IL, area that are into the Twilight series and eagerly await the release of Breaking Dawn. Also included are area release parties for Aug. 1st. Read it all here.

The Miami Herald has an article on the Twilight Series and how "teen girls (and many of their mothers)" anxiously await the release of Breaking Dawn. Although the author has some difficulty with Bella's damsel in distress role, she does realize the wider appeal of the Twilight series. She also has some neat release party info from around the country (ie. a bloodmobile in California) and in Miami. Read the article here.
The Yuma Sun (AZ) has a piece on the Twilight series and and announcement of a Breaking Dawn release party. Get all the details here.