Posted on 23. Jul, 2008 by debbie-dub in News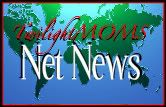 The LA Times has a list of "Ten things to watch for at Comic-Con" and Twilight is number 2 on the list:
"Choose a side now – we're Team Edward all the way! – because "Twilight" stars Robert Pattison and Kristen Stewart will be on hand to dazzle fangirls, preview exclusive footage from the upcoming teen vampire romance movie and, with any luck, explain what was up with that Entertainment Weekly cover.
To read the rest of the list, click here.
———————————————————
The Peterborugh Examiner has the details of a Twilight Saga book party being planned at Titles Bookstore for Aug. 1st, the release date for Breaking Dawn.
"The party will feature prizes for the best costume, refreshments including a wedding cake (there is supposed to be a wedding in the new book), contests and a raffle for a bookplate. The plate can be pasted inside the book cover and is autographed by Meyer."
A wedding cake? We'll keep our fingers crossed!
See the rest of the details here.
———————————————
Arrow in the Head.com has an article about the new Twilight stills and the casts' appearance at Comic-Con this week. See the pictures and article here.
———————————————
RopeofSilicon.com has an article about Comic-Con as well and they say that they will
"be involved in roundtable interviews with the…cast and crew of Twilight along with author Stephenie Meyer."
Read the rest of the article here.
———————————————
The LA Times has an article about Comic Con, here that states:
"Some studios bring gifts for fans: …[t]he makers of the romantic vampire film Twilight will be giving out collector's trading cards."
TRADING CARDS??!!  YAY!
———————————————
The National Ledger has a brief article about Twilight and Cam Gigandet:
"Actor Cam Gigandet says fans won't be disappointed, especially those who are big followers of the books. "It's a huge movie that has all of these up and coming actors in all of these interesting roles. It's difficult being that we only have two hours to tell the best story possible within that book, but the movie is as true as it can possibly be," claims Gigandet, who plays James, the leader of the villainous vampires."
Read the rest of the article here (it is the second story on the page.)
Warning: there are some really funky (read: schmexy) ad banners on this site. Enter at your own risk!