Posted on 22. Jul, 2008 by Admin in Movie Related, News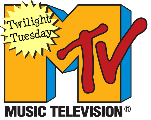 As Seth promised yesterday, MTV's Twilight Tuesday delivers the official info about submitting questions for the Breaking Dawn Concert and Signing on August 1st in New York here.  They want questions from everyone, not just those going to the New York event so head on over there and ask your questions.
Larry "Made of Awesome" Carroll continues doing a great job feeding our obsession during the lockdown.  Today we get also get an interview with Nikki Reed- check it out here.  She mentions Twilight fans & TwilightMOMS in the video interview!