Posted on 12. Aug, 2008 by Admin in Movie Related, News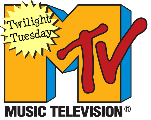 Today's Twilight Tuesday from MTV has a video interview (with transcript) with Stephenie Meyer answering questions about Breaking Dawn where "she opens up about the technicalities of Bella's pregnancy, the original Forever Dawn version of the story, the future of the Twilight universe and more." See & read it here.

MTV's Movie Blog also has an entry (with video) about Breaking Dawn and Stephenie's thoughts on its movie possibilities here.
One more piece of Twilight News from MTV- but this time, it's a request for help from fans! MTV asks. "Do you have "Vampires On The Brain? Help Us Create A 'Twilight' Quiz!"  If you do (and who doesn't after reading the Twilight Saga?) then MTV wants your help to create a Twilight Quiz.
"Send your multiple-choice trivia questions about anything in the series' four novels to [email protected] now through next Twilight Tuesday, August 19. Be sure to include the book titles and page numbers to back up your questions and answers (submissions without page numbers can't be used)."
So get out your books, ladies & gents, compile your toughest questions and try to stump us all! Read all the details here.