Posted on 14. Aug, 2008 by Admin in Movie Related, News, Stephenie Meyer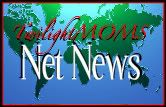 The Associated Press reports that Stephenie Meyer's literary works are once again dominating the weekly Bestseller lists on The Wall Street Journal, USA Today, and Amazon.ca!
Here are more book reviews of the Twilight Saga as a whole and how Breaking Dawn has rounded out the series:
MTV has several articles about the hacking incident that paralyzed The Twilight Lexicon earlier this week. Read the initial article here and the follow up blog entry here that includes fan reactions.

Vimeo has is a new extensive trailer for Robert Pattinson's indie film How to Be. Watch it here.
More pictures from Twilight at Comic-Con in San Diego have surfaced! You can find new pictures of the cast, Catherine and Stephenie backstage and signing some autographs here. (Thanks to pixie_like at lion_lamb, a LiveJournal Community.)