Posted on 26. Aug, 2008 by Admin in Movie Related, News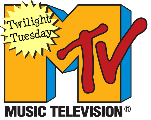 This week's Twilight Tuesday brings us the great news that the actors in our favorite love triangle will be making an appearance at the MTV Video Music Awards.  Robert Pattinson, Kristen Stewart and Taylor Lautner will be presenters at the September 7th broadcast.  Find all the details here.  Don't forget to watch or set your dvr's!
There is also an interview with Taylor Lautner regarding the possibility of filming New Moon.  Check that out here. 
In case you missed it yesterday- MTV brought us news of additional Twilight scenes being filmed- get those details here.