Posted on 01. Aug, 2008 by Admin in Conventions, Movie Related, News, Stephenie Meyer, TwilightMOMS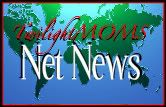 Thanks debbie-dub, as always, for getting most of this together!
The School Library Journal has an article on Twilight that addresses the educational benefits of the book series, the literary influences and how Twilight could be included in a class syllabus. (Where do I sign up for that class?!) Read it here.
The Roanoke Times (VA) has an article about Twilight teens awaiting the release of Breaking Dawn. They even mention TwilightMOMS who love the series, too. Read it here.
She Knows asks "How much do you think you know about Twilight?" They have a list of trivia questions, by book, with the answers on page 2. Bring the trivia questions to your Breaking Dawn party and try to stump your friends. Get the trivia here.
Arrow in the Head has a brief article about Twilight posters of Robert and Kristen here;. They also have a video interview here from Comic-Con with Taylor Lautner and Catherine, and Stephenie.
The Peninsula Daily News has an article that is sure to make you hungry. Bella Burgers, Ed's Bread, and Swan Salad are a few of the culinary treats being offered at Forks and Port Angeles, WA, eateries these days. For a list of Twilight inspired menus and fare, eat it up here.  They also have a detailed list of Forks and Port Angeles are Breaking Dawn release parties here.
The Standard Examiner has articles here and here! Thanks for these InLustWithEC!
The Northwest Herald in Illinois has this article here titled "Darkest before 'Dawn': Teenage vampire love story will debut to hungry fans."   Thanks for the heads up Bluestem!
We thought we got this blogged already, but even if we did, it's worth a second look…  Normal Mormon Husbands Breaking Dawn spoofs can be really funny!  We read this one here first, but there is more to discover over there!  Thanks Dayrey79 for reminding us about Normal Mormon Husband!
And now, some very bad news. Breaking Dawn's Kindle release date has been pushed back a full day- to August 3rd. For Kindle users (even Stephenie's a user- she recently mentioned using her Kindle in People magazine's July 25th issue- see blog post here), it's an outrage!  Here's a quote from TwilightMOM kempette expressing her concerns:  
"Much to my dismay the release for BD on amazon's Kindle (e-book) has been pushed back a full 24 hours from the main release of the book- until Midnight on Aug THIRD! If I had the guts I'd PM Elizabeth to ask her what the deal is, but since it's a publisher decision I'm sure she can't help. I've sent an email to Little Brown, asking them to reconsider & I encourage everyone else who reads Steph's books on Kindle to do the same. After all, Steph is a Kindle reader too!!!! My impression is that this is all a ploy to get more of us to buy more "tree books" in our impatience instead of holding out for our beloved Kindle copies. anyway, a link to the original blog posting is at:
http://www.amazon.com/gp/blog/A1F8Z0JAEIDVRY/ref=cm_blog_open

The customer service email link for Little Brown/Hachette is:
http://www.hachettebookgroupusa.com/customer_contact-us.aspx
Have fun at those release parties!"
Not that this is the best time to advertise the Kindle, but I'm saving up for one…  You can buy it here at Amazon.  Or just read about it and you'll be drooling over it like I am.
No time to double-check, so if this is a duplicate… whoops!  Variety published this blog here about the "Hunks of Comic-Con." You can thank Jenbarn76 for that reminder.
Empire Magazine in the UK posted this video of Twilight at Comic-Con here.  Thanks to ferrarimum for reminding us to post the link. 
Twilightgeek sent us this note and we asked if we could share it with you all:
I can't believe that Rachelle mentioned my buttons on the MTV chat thing!!  And in one of the videos, Catherine is wearing the button she picked from me!!  I am just so tickled pink and I am bouncing off the ceiling!!  I just wanted to share, because, of course, they couldn't name the "girl" who gave them the buttons!  But it was me!!  Hee-hee-hee!!!!  Can you tell I'm a bit psyched?!
Isn't she cute? Both Rachelle AND our own Twilightgeek.  We're all tickled pink and a little bit psyched for you, too!
The Kansas City Star published an article here titled "Fans of Stephenie Meyer's Twilight Saga plan to stay up and wait for the Dawn."  Yep, we sure are! Thanks to TM BeautifulDisaster for that bit of news.