Posted on 19. Sep, 2008 by Admin in News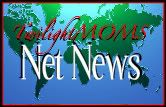 ~TheV247.com has a great story about how the Twilight Saga has increased the tourism business in Forks. Check it out HERE.
~The Tampa Tribune / Tampa Bay Online provides their Fall Movie Preview (personally I just thought it was cute that they titled one section "Romance and comedy (and vampires)"). Nothing really new, but nice that it was listed as a highlight of the fall: TBO's Fall Movies: Get Serious
~Scream 2008, of which Stephenie Meyer is an advisory board member, has opened up its categories for voting.  While it is too early for Twilight to be nominated for anything, there is an option to submit your vote for the Most Anticipated Movie.  You can find the entry form HERE.
~ReelzChannel has a new Twilight quiz.  Test your knowledge of all things Twilight HERE.
~If you would like a copy of the group photo taken in Forks last Saturday you can find out information on how to order one HERE.
~E Online is keeping tabs on our favorite Teddy Bear- Superhottie Kellan Lutz, who plays Emmett Cullen in the upcoming Twilight vampire movie, was looking to get high—in the air! He signed up for lessons from Trapeze School New York. You can read about it HERE.