Posted on 30. Sep, 2008 by Admin in Movie Related, News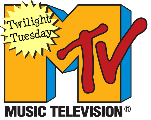 It's Twilight Tuesday and that means more goodies from Mr. Wonderful, Larry Carroll.  Today, Larry treats us to the Cam Gigandet (aka James) edition of MTV's Twilight Tuesday where Cam discusses fight scenes, bad guys and scaring Twilight fans on opening night. Read & see the interview here.
Mr. Wonderful Larry also has a blog entry, here, asking fans "How did the Twilight cast do in their first official public appearance (the MTV VMA's)?"  Larry also has a message to the fans of Twilight Tuesday:
"…we've actually been working lately to arrange an interview with Esme (Elizabeth Reaser). We're trying to schedule the few actors left we haven't spoken to yet. Hang in there…"
YAY…I can't wait to see Esme and any other interviews!!