Posted on 22. Sep, 2008 by Admin in News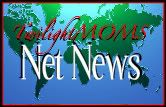 Great news for our Aussie TwlightMOMS! Ashley Green, Kellan Lutz and a mystery Twilight cast member will be visiting Australia on December 6th and 7th. Find out all the details HERE.
The Austin Film Festival & Screenwriter's Conference has announced that Twilight screen writer Melissa Rosenberg will be speaking at the festival and they will be revealing a new clip from the movie.   Melissa is scheduled to appear on October 18th.  For details visit their site- Austin Film Festival.  We'll be looking forward to reports from our Texas Moms about this exciting event!
BabyNames.com has put up a list of Twilight Names in their "Cool Names" List. If any of you expectant Moms are looking for a little naming inspiration check HERE.
Drake University's newspaper The Times-Delphic has an article about how Twilight appeals to more than just 12 year old girls.  You can read it HERE.