Posted on 14. Oct, 2008 by Admin in News
MTV announced yesterday that the run time for Twilight would be 120 minutes of pure Twilight time!  Yay…2 hours of Twilight!  Read the article here and discuss it on TwilightMOMS here.
~~~~~~~~~~~~~~~~~~~~~~~~~~~~~~
 Premiere Magazine (UK) has an extensive interview of Twilight screenwriter Melissa Rosenberg where they "talk about adapting Twilight, balancing TV and film, and women writing in Hollywood."  Read the interview here (on TwilightMOMS, here.)
~~~~~~~~~~~~~~~~~~~~~~~~~~~~~~
  Celebuzz has added a new bio page for Robert Pattinson.  They also have a tab for news and photos of Robert.  See it all here.
~~~~~~~~~~~~~~~~~~~~~~~~~~~~~~
~ Robert Pattinson's film How to Be was shown last week at the New Orleans Film Festival.  During the Q&A session before the screening, our favorite Twilight vampire phoned in while stuck in LA traffic.  RobertPattinson.Blogspot has a 3 part video of the Q&A session where Roberts voice is heard loud and clear.  See, and more importantly hear, it here.
~~~~~~~~~~~~~~~~~~~~~~~~~~~~~~
 Ecorazzi ~ the latest in green gossip (lol), is thrilled that in todays MTV Twilight Tuesday, they asked Christian Serratos (aka Angela) about being a vegetarian.  Back in September, they started this conversation with an entry about the Vegetarian Lifestyle Growing Popular with Vampires.  Read their latest piece here.
~~~~~~~~~~~~~~~~~~~~~~~~~~~~~~
  Just Jared has some great new pics of Taylor Lautner, Ashley Greene and Kellan Lutz "on the red carpet at the L.A. premiere of Max Payne held at Mann's Grauman Chinese Theater on Monday."
See the pics and read the brief article here.
Note: I think Taylor is bulking up….some of those pics show some real definiton under the shirt!!
~~~~~~~~~~~~~~~~~~~~~~~~~~~~~~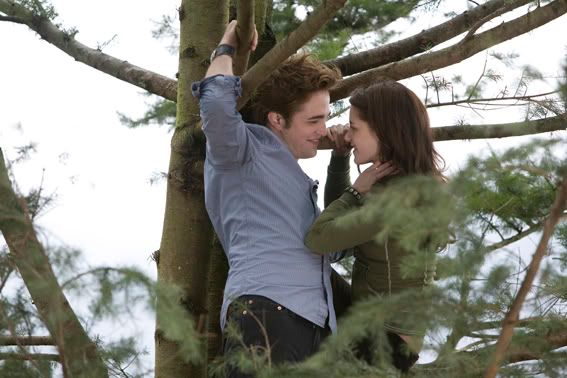 These are just some of the fabulous Twilight movie stills that can be seen on Twilight Australia.  See these and many more here.
~ debbie