Posted on 11. Nov, 2008 by AmyO in Movie Related, News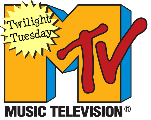 Just two more Twilight Tuesdays until the movie is here!  Wow!!
Today's Twilight Tuesday focuses on Kirsten Stewart in her role as Bella Swan.  Check it out HERE.

Larry also has a story about the incredible change Twilight has made in the careers of its stars.  He's compares the Twilight franchise to the Star Wars Saga and wants to know if you think the actors will have careers like Harrison Ford or Mark Hamill.  Check it out HERE.