Posted on 29. Jan, 2009 by Admin in News
The Good News: You can preorder the Twilight DVD (release date is March 21, 2009). Most of you (us) probably already have.
The Bad News:  Which "special edition" or "exclusive" one should you buy? Or do you buy all them?Are they really that different?
You can pre order the Twilight DVD at Amazon here, at Hot Topic here, and at Borders here. Now- let's compare and discuss! Which one are you going to buy?  Or are you getting all three?  Will they be prepared for the demand?  What if you wait to get it in the stores- will they be sold out?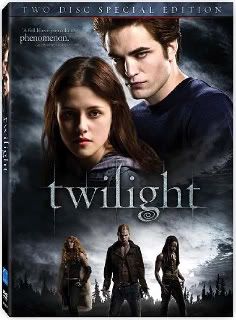 Hot Topic
You can pre-order Special Edition Twilight DVD at Hottopic.com here for $24.99. Hot Topic is including an exclusive Edward movie cell with every DVD.  According to Hottopic.com, this is what makes their DVD a must-have:
Hot Topic is offering an exclusive and highly collectible Edward Cullen film cell with every copy of the 2-disc special edition Twilight DVD, all for $24.99. This is a real film cell created directly from the movie. There are 250 different images available, each individually numbered and suitable for framing. Receive one of these exclusive Edward movie cells in each DVD, only at Hot Topic! So what are you waiting for? Pre-order your copy now!*
Here's a picture of the Edward Movie Cell that comes with the Hot Topic Twilight DVD.
Amazon
 You can pre-order the "Two-Disc Special Edition" Twilight DVD at Amazon here.  Here's the picture Amazon has for the DVD.  Hmmm, it looks just like the one available at Hot Topic.  Is there anything that makes it special?  Well, it is the cheapest price of the three at $22.99.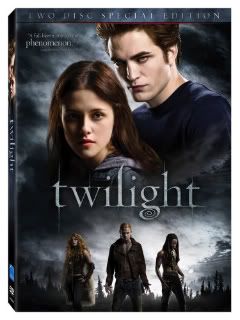 Borders
Last, but not least, especially if you go by the word count for the description, you can preorder the Borders Exclusive Edition Twilight DVD here for $29.99.  But is this really a Borders exclusive?  After so many of you reported seeing the "Borders Exclusive Twilight Perfume" at Hot Topic, at Torrid, at Suncoast and at F.Y.E, we have to ask.  What makes this DVD Exclusive?  Here's the picture Borders has on their web site.  It certainly looks different than the other two.

According to Borders.com, their exclusive Twilight DVD comes with these additional features:
Special Bonus Disc, Which Includes:
• Exclusive Twilight Cast Interviews with Kristen Stewart (Bella) and Robert Pattinson (Edward)
• Exclusive Twilight Cast Interviews with Cam Gigandet (James)
• Exclusive Twilight Cast Interviews with Edi Gathegi (Laurent) and Rachelle Lefevre (Victoria)
• Exclusive Red-Carpet Interviews from the Twilight Movie Premiere
• Exclusive Never-Before-Seen Red-Carpet Footage! Includes extra interview footage with Kellan Lutz (Emmett), Ashley Greene (Alice), rock band Paramore, and Nikki Reed (Rosalie)
• Exclusive Borders Book Club: Stephenie Meyer talks about the Twilight Saga

• Audio commentary by Catherine Hardwicke, Kristen Stewart, and Robert Pattinson
• Muse music video: "Super Massive Black Hole"
• Paramore music video: "Decode"
• Linkin Park music video: "Leave Out All the Rest"
• Five extended scenes with director introductions
• Five deleted scenes with director introductions
• Seven-part documentary: "The Adventure Begins: The Journey from Page to Screen"
• Comic-Con "fandom" piece
• Comic-Con NY sizzle reel
• Three trailers
• Penelope trailer

Exclusive Photocards
10 exclusive photocards are printed on a gorgeous pearlescent paper to give a dramatic sparkly effect—the perfect way to view your favorite vampires
As Edward would caution all of us, to be safe, we think we'd better order all three
  What are you going to do?