Posted on 10. Feb, 2009 by EndlessTwilight in News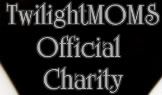 Our spotlight charity announcement for February is the lucky organization that is now our official charity! There were so many wonderful charities we considered but there was one in particular that, as moms, touched our hearts the most. Go to our charity spotlight thread here to find out which one we decided on and to see our new official charity logo.
Also, to kick off this announcement, my friend Shielou is going to make a special jewelry piece to auction off on ebay for the charity. She is a Cullen sculpting genius! Check out the charity thread above to see some of her items and stay tuned to see what she has in store for us!
~EndlessTwilight