Posted on 18. Feb, 2009 by EndlessTwilight in News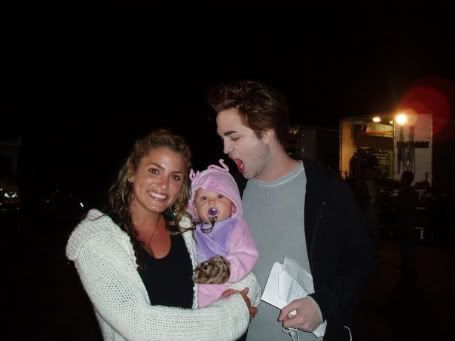 When asked by the media , "What has been your most bizarre fan encounter yet?" a few of the Twilight stars including Robert Pattinson, Nikki Reed and Kellan Lutz gave the same story which sounded a bit like this:
"Well, there was this Twilight Mom who, like, offered me her baby and wanted us to take pictures with it. Yeah, she just, like, handed me her baby and then left for, like, 2 hours or something. It was crazy! What was I supposed to do? Did she want me to keep it?"
All this complete with lots of "Wows!" and "Gasps!" from the interviewer, not to mention lots of face plants into computer desks from the TwilightMOMS, especially our wonderful sarahpat, Twilight Baby's mommy. You see, we all know the true story and we thought that in light of recent interviews we should reiterate it for you, so that you too can know the truth.
Twilight Baby now has her own Face Book page and you can read her true story in notes on her page here.
Let's help spread the word!