Posted on 15. Jun, 2009 by gypsy wings in News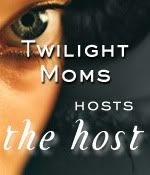 I just wanted to remind everyone of what we are doing for our day of The Host Blog Tour, and let you know I have decided to extend the deadline for entries to this saturday, June 20th. There is still time for you to come up with something AMAZING and send it in to us! We have some great prizes… so don't miss out!
All entries must be sent to [email protected] and received no later than this saturday, June 20th.
Our first contest will be to write a journal entry from the perspective of ANY character in the book, except for Melanie or Wanderer.
Here are the rules:
1. Journal entries must be no longer than 300 words in length.
2. Journal entries must mention something specific that happens or is mentioned in the book.
3. Journal entries can be written from the perspective of ANY character in The Host, except Melanie and Wanderer. It can be a big character like Ian to someone barely mentioned at all.
4. BE CREATIVE!
Please email your entries to [email protected] with The Host Journal Entry as the subject line, and include your contact information so that we can contact you later if you win.
Our second contest is a fun one, we are going to have a sculpture making contest using Twinkies and Cheetos! Now, on first thought you may think to yourself WHAT can I make from Twinkies and Cheetos? And my response to that is, I don't know, use your imagination and dazzle us!
Here are the rules for the Twinkie and Cheetos Sculpture Contest:
1. The main ingredients in your snack food work of art must be Twinkies and Cheetos. You may use popsicle sticks and/or toothpicks to hold it together if you need to… you can mush it up with water and make a paste… but that is it. Twinkies, cheetos, toothpicks, and popsicle sticks… and water are it!
2. You can carve, mush, squish, stack, or anything else you need to do to shape your sculpture, so long as you stick to the allowed ingredients. Is that even the right word for this? Ingredients?
Please email photographs of your completed masterpiece to [email protected] with Twinkie and Cheeto Sculpture as the subject line, be sure to include your contact information in the email.