Posted on 13. Jan, 2010 by Amanda31 in News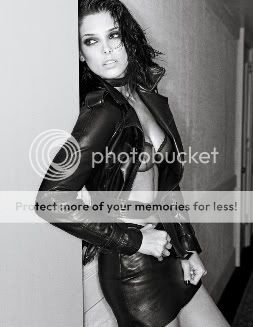 Interview Magazine has posted a fantastic interview with Ashley, and with Michael asking the questions! Just to give you a sense of their banter during the interview:
MICHAEL SHEEN: Okay. This is my first question. This is the only really serious one, and then the rest are quite funny. The first one is: As an elf, raised by humans, have you found a lot of discrimination against the fairy folk here in Hollywood?

ASHLEY GREENE: Well, I think they're just jealous that I sparkle and speak elfin and have cute little pointy ears.

SHEEN: It's true.

GREENE: So, yes, there's discrimination. But I really don't care.

SHEEN: You do get described as pixie-like a lot. In my younger days, I used to get described as sort of elf-like. I think it's probably a lot easier to deal with that if you're a pretty girl, rather than a sort of average-looking boy.

GREENE: I'm sorry about your adolescence.

SHEEN: Thank you. Well, look, let's take a second and go back to the beginning, Ashley Greene. You grew up in Jacksonville, Florida. Is that correct?

GREENE: That is correct.

SHEEN: Now tell me about Jacksonville. What's it like? And could you please sprinkle it with some alligator stories?

GREENE: I've only eaten fried alligator tail once.
Michael and Ashley go on to talk about her early focus on law and psychology, the Twilight films, her upcoming thriller The Apparition, and her "mini-crush" on Joseph Gordon-Levitt (I have one, too!!), among other things.
Read the rest of the Q&A here. The interview will be included in the newest issue of the magazine, which hits news stands January 19th.