Posted on 29. Nov, 2010 by Amanda31 in TwilightMOMS
TwiilghtMOMS is celebrating Cyber Monday in our online store!
If you haven't bought your TwilightMom Snuggie yet, then make sure you stop by the store today for a special one-day only $20 price (regularly $25). We've also added a "custom dazzle" option to the snuggies so that you can add sparkle & crystals to the logo for $5. You know how we feel about sparkles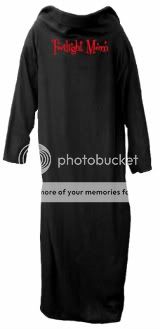 Speaking of sparkle, we have also added some new exclusive jewelry items to the store, including the gorgeous  LiaAlana "ICE" Holiday Gift Set (necklace pictured below).


To make it even easier to shop online, we are now include free shipping on all items other than clothing and snuggies, which means all jewelry, bookmarks, accessories, etc., ship to you for free! Visit our store here: http://store.twilightmoms.com/