Posted on 10. Dec, 2010 by Proud MommaX3 in News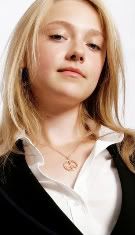 On Thursday afternoon one of Dakota Fannings representative's announced that  the actress was backing out of the movie "If I Stay" so she could focus on High School.  It's also been said she will not be taking on anymore lead roles until she graduates come Spring.
While I was looking foward to seeing her in the film I've got to give her props for wanting to finish High School and taking her education so seriously.
Source: LA Times