Posted on 16. May, 2011 by amydod in News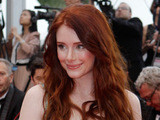 Bryce was in attendance at the Cannes Film Festival to promote the film "Restless" which she is a producer of. While there she also discussed her upcoming film 50/50.
Bryce Dallas Howard has described her cancer comedy 50/50 as a "truthful" viewing experience.
The Twilight Saga star appears alongside Seth Rogen and Joseph Gordon-Levitt in the upcoming picture, which is based on writer Will Reiser's diagnosis and battle with the disease.
Speaking at the Cannes Film Festival, Howard insisted that the movie would be uplifting, despite the tragic subject matter.
Read the full story over on Digital Spy